Vancouver, British Columbia is surrounded by majestic mountains and rippling water, not unlike Colombia, the birthplace and long-time home of brothers Nicolás and Andrés Amaya. Consequently, the Amayas felt at home when they arrived in B.C. in 1998. As they explored the scenic terrain they also became curious about new beers, trying as many local offerings as they could find at the time. Soon they were enjoying beers from across Canada, captivated by the bold new flavour profiles. Along the way they mentally took notes – and started to plan what would become Andina Brewing Company, a South American-inspired brewery that is now a destination in Vancouver's beer scene.
The story of how the Amaya brothers turned their dream into reality is a study in persistence, planning and partnership. Nicolás and Andrés launched their efforts in 2014 by piecing together a high-level plan for Andina. Without the know-how to build a brewery, they sought the advice of local brewery owners and industry professionals. This included partnering with brewery consulting firm First Key, which assisted them with the project, from developing a detailed business plan and through the design, build, and start-up phases.
"There is no doubt that without the assistance of the local breweries and First Key, we would have had a bigger challenge on our hands. Our main objective since we started this enterprise was to do things the 'right way' without cutting corners." Andrés Amaya
As the process started it took months of searching for the Amayas to find a site – a 107-year-old building in the heart of East Vancouver's burgeoning brewing district. The attractive location and a facility with ample room for growth made the place a "perfect" fit for the brothers. Selecting an older building created multiple challenges for the team, but one-by-one the Amayas worked with First Key to find the right solution for each issue. The brothers knew if they cut a corner or overlooked a problem early on it would harm their ability to deliver a consistent, high-quality customer experience, which remained their vision for Andina thoughout.
By gaining a deep understanding of the Amayas' vision and goals for Andina, First Key provided guidance that allowed the brothers to focus their time, effort, funds and other resources on the things that mattered most. That included recommending the right brewery layout to fit the building and meet expansions plans. First Key also prepared the brewery equipment list, including the process, packaging and utilites requirements, and then sourced and procured the equipment on behalf of the brothers. Given the volume projections for their first five years, the choice was made to purchase a 20 bbl brewhouse to meet near and long-term plans.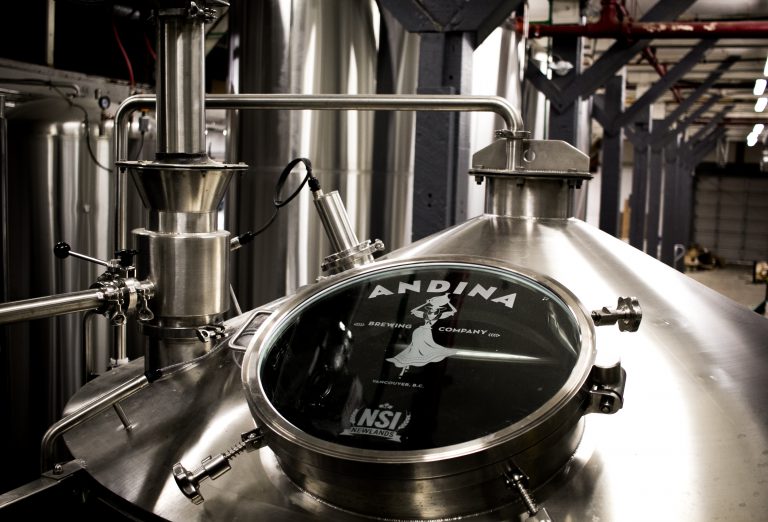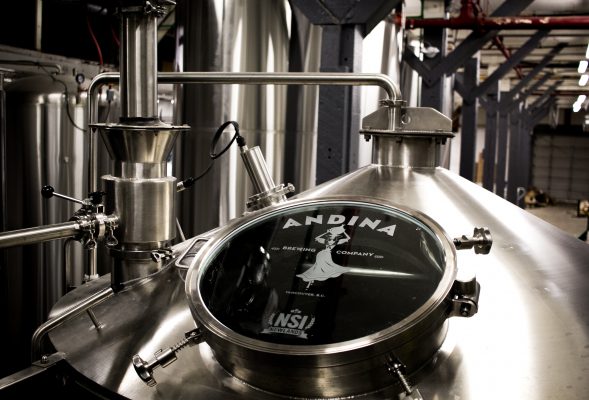 Building a brewery that focused on sustainability was also an important part of Andina's mandate. Their spent grain is used as animal feed, as many breweries do, but they didn't stop there. Andina is the first brewery in the world to use a self-contained heat pump, the PIRANHA™, developed by International Wastewater Systems. It uses a heat exchanger to extract thermal energy from wastewater which is then recycled and used for domestic hot water heating for the building.
As construction progressed, the Amayas worked on a brand and marketing plan. A key step in bringing together the brewery's overall story was a foundational branding workshop that was facilitated by First Key's Commercial Services Director in Vancouver. Working with Andrés, Nicolás and Claudia Amaya, Andina's Communications and Marketing Director, the group outlined the brewery's purpose, vision, core values and brand attributes combining the Colombian roots of the brand with the unique nuances of the Vancouver market. To complete the picture, First Key also connected with Andina's Colombia-based branding expert Lucho Correa and designer Leo Espinosa of Salt Lake City to ensure alignment of the brand.
The core of the brand is reflected in the brewery name – Andina refers to a woman from the Andes, the famed mountain range that runs through Colombia and down the western side of South America. The name would represent the Amaya family's history and culture. Beer, malt and mountains all have feminine references in the Spanish language. As the Amayas describe it, "Andina is feminine, innovative, majestic, vibrant and friendly!"
Fast forward to 2017, and take a drive in what is affectionately known as "Yeast Van" because of the influx of breweries. A bright yellow building adorned with a vibrant 30' x 60' mural of Andina's "La Pola" girl greets visitors as they venture down Powell Street. This building has become a landmark in Vancouver not only for its bold colour, but for the culture and hospitality it shares with its community.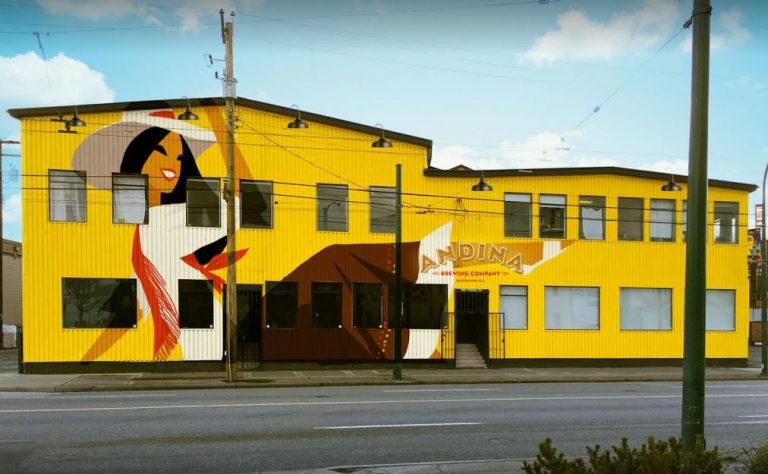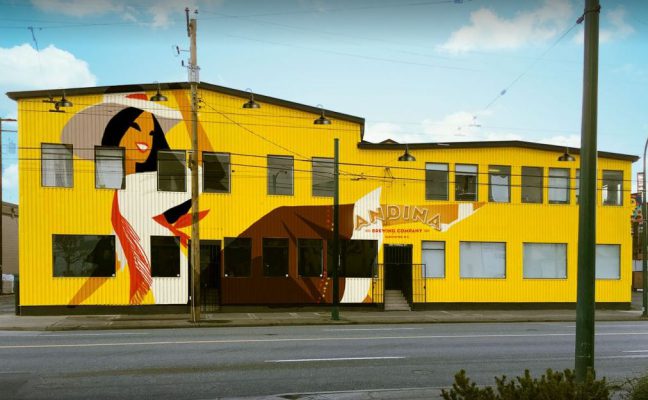 The Andina brewery is not only unique from an architectural standpoint, but also for the feeling of family, home and warmth that envelops visitors. The music, the conversation and the lively ambiance all stand out, as do flavorful brews such as the Melcocha Andean Mild Ale and South American snacks, including plantain and yucca chips. The tasting room inhabits the charm of the Amayas' Andean heritage with traditional art, crafts, clay pots and woven baskets accenting the décor.
This is the atmosphere that the Amaya family has created with their new brewery, which has become a popular location in the local beer scene as well as with Vancouver's South American community.
"Working with the Amaya family, the design intent was to create a space that brought Colombian culture, textures, landscapes and atmospheres into the heart of Yeast Vancouver. A wood and steel screen that wraps the space and the splashes of bright colours on the bar are derived from Colombian textile patterns. The bar itself is shaped and located to encourage the vibrant social interactions and hospitality that Colombians are known to exemplify." Bill Uhrich, Simcic + Uhrich Architects, who were the Project Architects for Andina.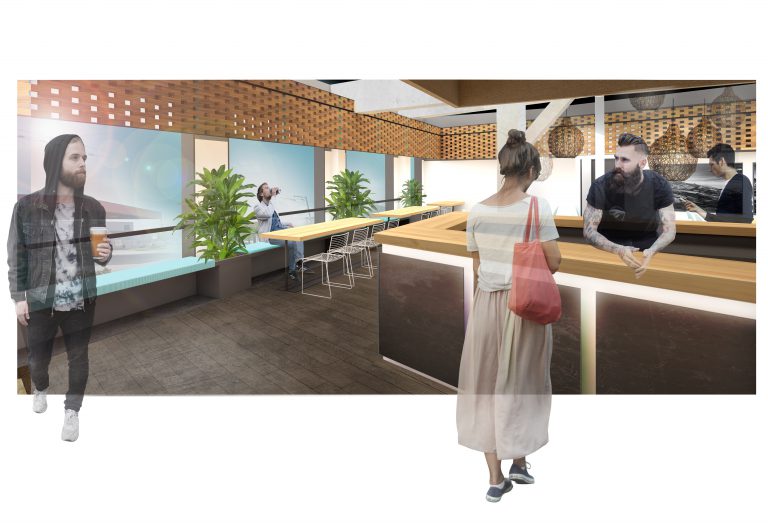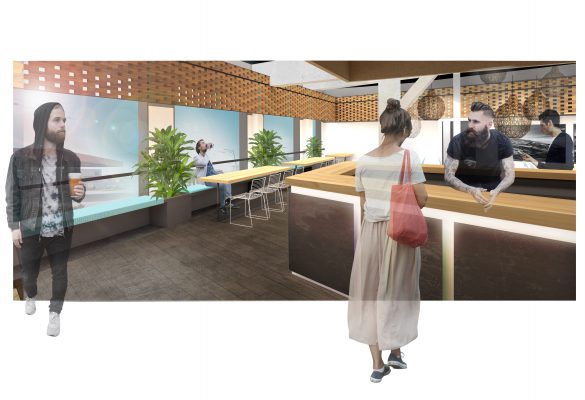 Andina's brews also reflect their passion for flavourful beer that is approachable to the novice beer drinker. The Monita Blonde IPA, one of four flagship offerings, is a great example. It is a lighter take on the standard India Pale Ale that features hints of honey and prominent aromas of citrus and tropical fruit. The other three flagship beers, or principales, are the Totuma Kölsch, which is their best seller, Melcocha Andean Mild Ale and the Ay Ay Ay, a flavourful Pale Ale. Andina worked with First Key on the beer development, which included trial brews, tasting and analysis to compare to the original intent. Recipes were updated and re-brewed as required to get the optimum results.
Andina's Head Brewer, Andrew Powers, collaborates with Nicolás on recipes that can include fruit only found in South America, panela (raw, unrefined whole-cane sugar) from Colombia and malt from Patagonia Malt, which has cultivated and malted barley in Chile since 1896. Though the focus on South American ingredients adds some complexity to the supply chain process, the flavours they impart make Andina's beers distinctive.
Case in point: the use of panela. After some experimentation, Andrew, a Siebel-educated brewer trained in Germany, determined that when it is paired with certain malt, it enhances the natural flavours and shortens fermentation time.
Seasonal beers are released every couple of months and often focus on fruit from South America, including lulo, a fruit that has green pulp and a citrus flavour.
"When you visit Andina, you will smell, taste and hear the Andina experience – it is the soundtrack of our life." Claudia Amaya, Communications & Marketing Director
The Amayas have given the same care and attention given to the food offered at Andina, which is 100% organic and ocean friendly. Customers are treated to a perfect fusion of eight kinds of ceviche (seafood, vegetables and fruit "cooked" on citrus juice instead of heat), based on traditional recipes from Ecuador, Peru and Colombia – all created by Andrés Amaya. The plantain and yuca chips are served with a Colombian sauce that is an interpretation of salsa as well as homemade Arepa, which are corn patties and cheese served with Hogao (a warmed Colombian sauce).
"We want you to come as guests, stay as friends and leave as members of our family." Claudia Amaya, Communications & Marketing Director
Andina's merchandise also embraces Colombian culture. In addition to the usual growlers, shirts, toques and hats, the brewery offers a beautiful sombrero-style hat and bracelets made from organic material and hand-crafted specifically for Andina.
The collective efforts of the Amayas has led to Andina providing a great customer experience that treats visitors to a warm atmosphere, great beer and a peek into their rich cultural history.