The rules of beer brand building are being turned upside down again.
Microbreweries, as they were called then, began to emerge in the 1980s, and from the beginning their success defied the conventional wisdom. The "rules" that had been in place for decades said that big-budget television advertising was the key to building brands, and that the difference between the winners and losers often came down to little more than how entertaining the ads were in presenting their message. Then along came the first wave of craft brewers, creating strong brands with virtually no vehicle for communicating what they were all about except their labels, portraying distinctive personalities with evocative visuals that lived solely in the palm of the beer drinker's hand.
In recent years the rules seem to be changing again. More and more often brands come to life not in small, self-contained little packages, but by immersing the drinker in the brand experience, in the form of a brewery taproom.
There are a lot of lenses through which to view the growing number of taprooms in breweries throughout North America, and while brand building may not be the first that comes to mind, it may well be the most significant.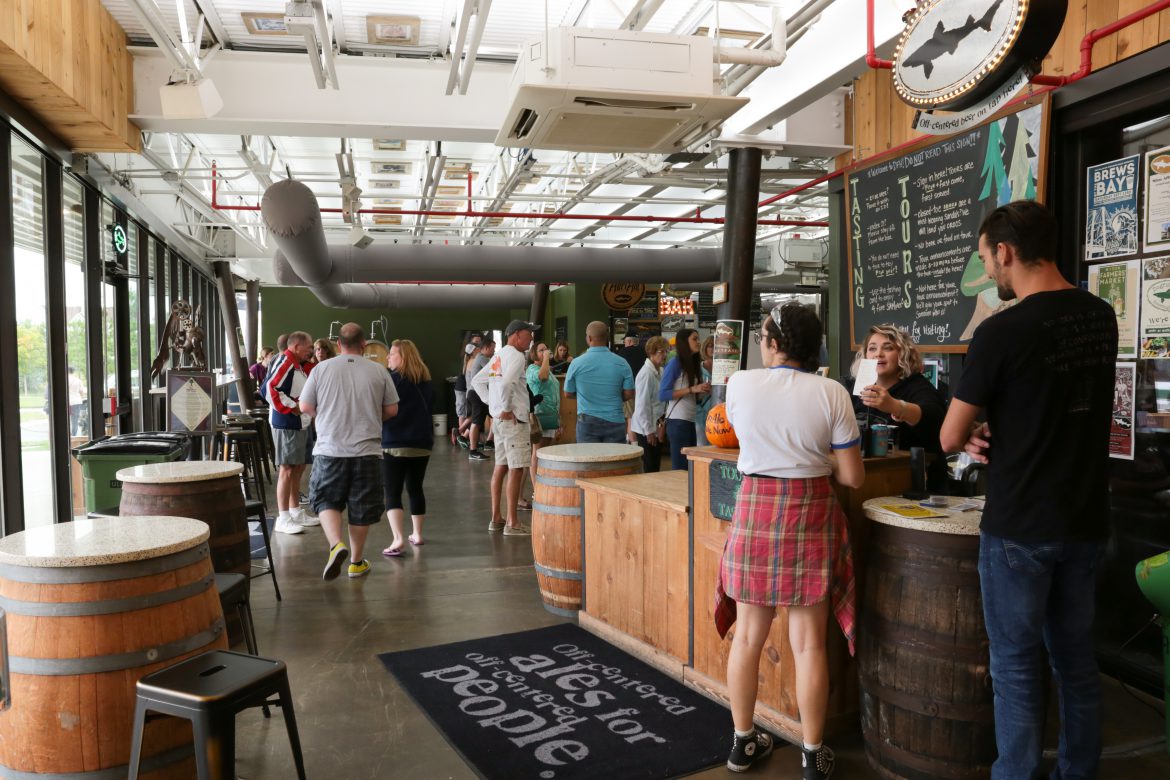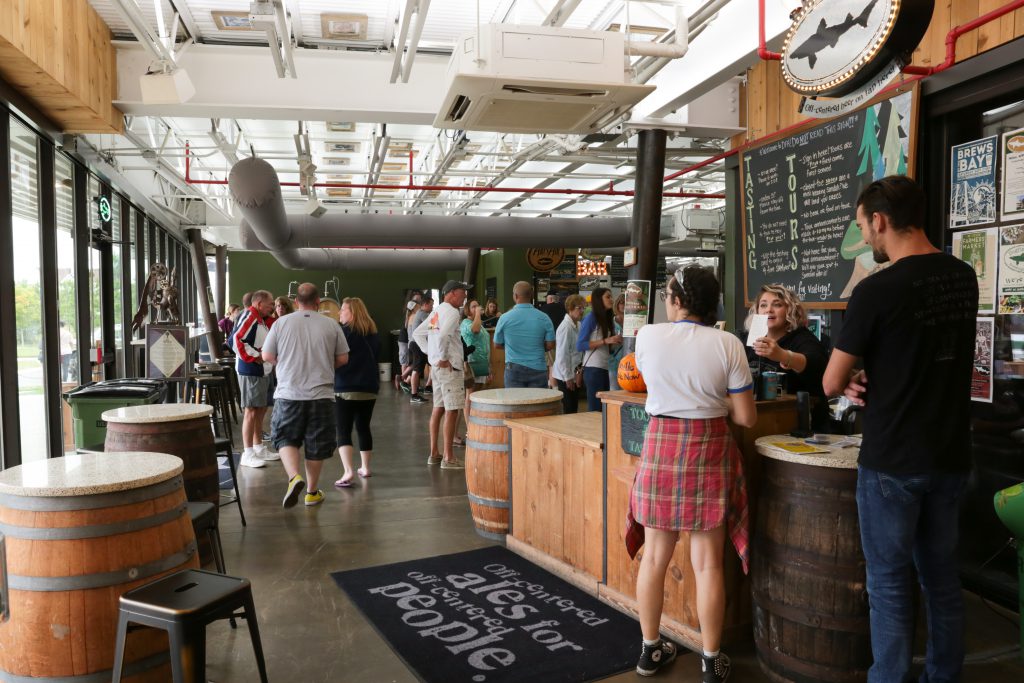 Dubbed "own-premise sales," beer sold directly to drinkers on brewery premises now accounts for roughly 11% of U.S. industry volume, according to estimates published by the Brewers Association. The barrelage growth has averaged over 20% for each of the last three years. Not all of this passes through a taproom per se, but the surge in own-premise sales is undoubtedly getting a big boost from the growing number of these – or even simply "taproom breweries." The latter is a new classification recently added by the BA to designate a brewery that sells 25 percent or more of its output onsite (without having significant food service operations, in contrast to a brewpub).
There's growing evidence that the prevalence of taprooms has created an expectation among beer drinkers that the best way to learn about what a beer brand stands for, to get a feel for its image and personality, is to visit them "live and in person." In a series of recent research interviews, when drinkers were asked about the image of a given brewery they consistently volunteered that it was the taproom that had given rise to that image.
One major craft brewer, we were told, has a "kind of a northern west coast hippy type of vibe – and the only reason I characterize it that way is I visited the brewery in California." A Colorado brewery was described by another interviewee this way: "I don't know that they've figured out who they are. They moved to a bigger, beautiful place and it's always busy but it's a tourist place – they're almost the establishment now." A third participant said "I've been to a pub in Dublin and [the mood there] shapes my opinion of the feel that Guinness has."
And not only has the taproom apparently become a drinker's primary source of insight into imagery and personality, for some it's the only relevant source. When asked their image of specific beer brands, more often than not interviewees told us things like "I can't describe their personality because I've never been to the brewery" or "I don't know much about them – I've never been there."
But while it's true that the taproom's role in brand building has been elevated in today's world, it's also true that the smartest brewery taproom designs have intuitively recognized this all along.
The physical environment of the taproom, of course, communicates a lot. It's a common practice for one wall to incorporate a large glass window overlooking the brewery itself, to make the patrons feel intimately connected to the process and the product. Another widely practiced rule: no televisions, the better to promote conversation and the sense of community so inherent to the beer experience. Those feelings of intimacy and community are both great ways to promote a brewery, but arguably neither represents brand-building per se, since a brand by definition is differentiated. Think of these basic design features as costs of entry – they say "we're all about beer and beer culture," but they don't say it any differently than do a half dozen other breweries not too far away.
Then there are the design elements that are essentially physical representations of the brand essence.
Rhinegeist Brewery, located in a pre-prohibition bottling plant, takes their name from the building's history- "Rhine" for the Over-the-Rhine neighborhood they call home, and "Geist" as a ghostly nod to the area's German heritage and a signifier that brewing life is making a comeback in Cincinnati. The taproom houses two bars, the original 20 BBL brewing system, and a small food kiosk, with burgers sent over from the restaurant next door via pneumatic tube. While filled mostly with wooden benches and cornhole sets, Rhinegeist has hosted a number of guests over the years, from motorcycle shows to a 150-million-year-old dinosaur skeleton.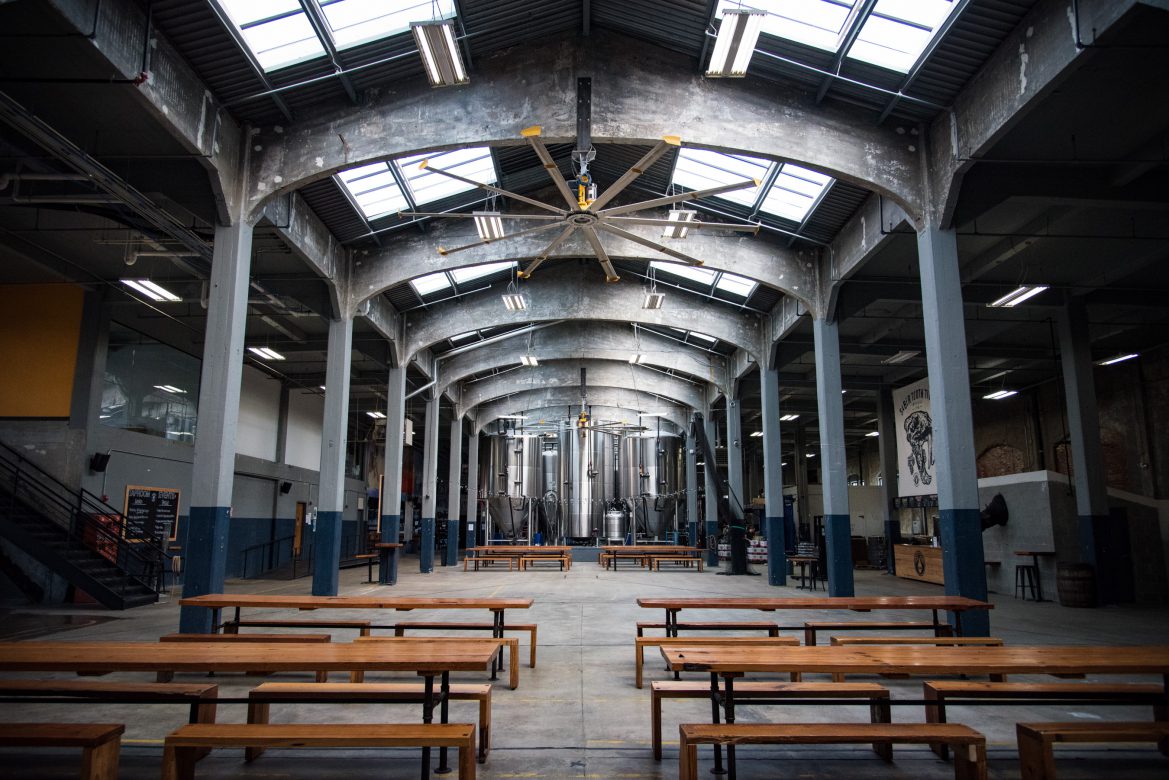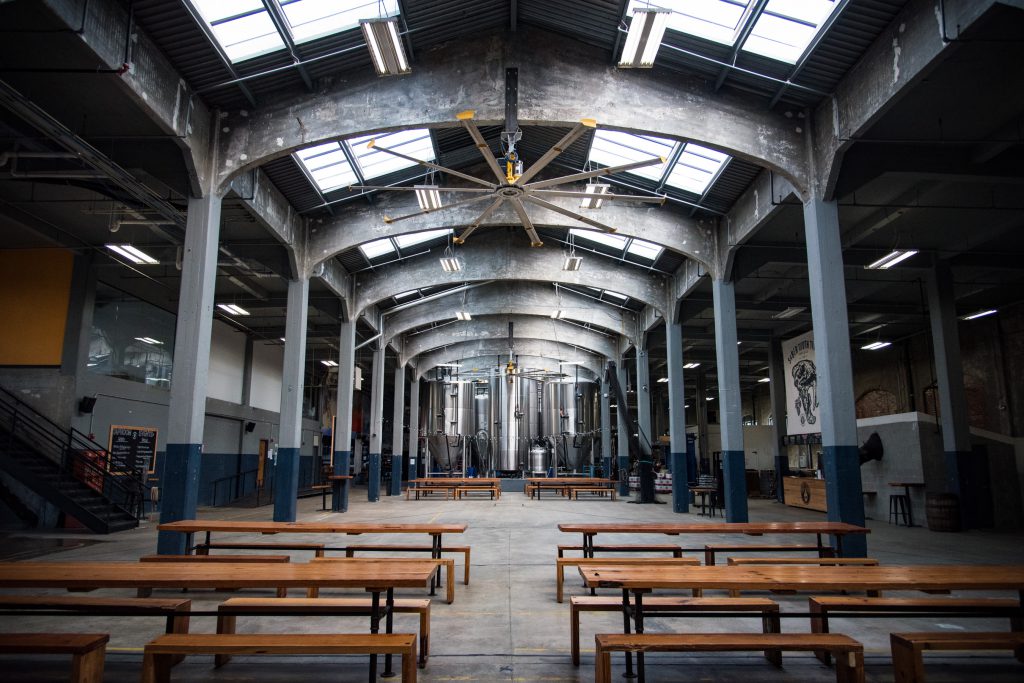 The walls of the Sierra Nevada taproom in Chico, California, feature a high ring of mountain scenes made up of colored backlit panels fitted together, complemented by local flora frothing up over the edge of a long, elevated planter – all cues to the explorer vibe that permeates the brand. Visitors to the Dogfish Head tasting room in Milton, Delaware are greeted by the Steampunk Treehouse, a post-apocalyptic (but still friendly!) sculpture of a tree rising up to a rusted metal treehouse, nested within branches of twisted wrought iron lattice – an "off-centered" welcome from an "off-centered" brand. And rising from a hilltop above the small Swiss-American village of New Glarus, Wisconsin, the New Glarus brewery may as well be a castle from the country that inspired its design and the brand itself.
When it comes to audio cues music is clearly the most important consideration. Still, it seems far fewer breweries are focused on piping in the kind of music that reinforces their brand personality. Three Floyds, in Munster, Indiana, is known for their heavy metal vibe, whether on the label or on the air in the taproom. Melvin Brewing in Alpine, Wyoming, has used rap music as the crux of its imagery, and that's what you'll hear in the taproom. But these seem to be exceptions. It's easy to tout the virtues of variety, and playing the kind of music the customers want. But as marketers often say, strategy is all about making choices. Not choosing the music strategically is at best a missed opportunity to build the brand and at worst a point of inconsistency that could contribute to gradual brand erosion.
But let's end on a positive prediction: as taprooms continue to thrive, as more and more breweries see their gathering places as the cradle that nurtures their brand, breweries that are already good at all this will become great, and all breweries will become better. They'll have to. Breweries will be using every facet of their taproom – visual, audible, and who knows, maybe even aromas or tactile elements – to make what they stand for crystal clear.