A Commentary with Joshua Bernstein
Breweries once brought beer to market along well-greased streets of commerce. They sold beer to distributors, who transported packaged goods to supermarkets, liquor stores, gas stations, bars, restaurants, and sports stadiums. Purchase points were as fixed as cities on a map. But with more than 8,000 breweries in America and climbing, sales trails have grown as clogged as Los Angeles freeways.
The fast-growing novel coronavirus pandemic is heightening the challenges, shuttering taprooms and bars and turning off the draft-sales faucet. In turn, breweries are carving new pathways to bring beer to thirsty customers. Breweries are opening pop-up taprooms and bars, delivering fresh IPAs to drinkers' doorsteps, collaborating with liquor stores on exclusive beers, and entering distant markets for one-time product drops. "You have to constantly pivot, change, and innovate or die," says Steve Soble, a founder of District Brew Yards and Burnt City Brewing, in Chicago.
Online Ordering and Delivery Comes to Craft Beer
Waiting in line revolutionized the modern beer transaction. A half-decade ago, breweries began making hazy IPAs and canning them by the four-pack, drawing long customer queues to taprooms. Selling cans over the bar eliminated distributors, earmarking profits to breweries alone. Lines remain integral to the success and mystique of breweries such as Monkish, near Los Angeles, and Other Half, in Brooklyn, but breweries are also finding customers online.
Retailers such as Drizly and Tavour, which work directly with breweries, have made home delivery easy. The trends are accelerating now that people are staying at home. Now, breweries are shipping and delivering beer directly to customers. "The American consumer expects to get everything delivered in the mail," says Jim Adams, a founder of Levante Brewing Company, in West Chester, Pennsylvania.
Levante keeps its canned beers out of broad distribution, only selling them to visitors to its taproom and website. Launched in early 2019, Levante's Mercury program delivers canned beer, hard seltzer, and nitro cold brew to Pennsylvania residents. Customers place an online order for four-packs of, say, the brewery's lush hazy IPAs or decadent imperial stouts, which are boxed and passed to logistics and delivery firm Quick Courier Services.
It handles the nuts, bolts, and final-mile delivery, typically within five to seven days. "It's a modern distribution channel that the modern craft enthusiast expects," Adams says, adding that deliveries have risen to around 5 percent of Levante's annual revenue.
Online sales make coveted barrel-aged beers more attainable (shipping regulations vary by state). The Rare Barrel, in Berkeley, California, ships its sought-after sour ales to residents of California, while New Belgium sends curated tasting packs of cellared and wood-aged beers, such as La Folie, to Nevada, Vermont, and Washington, D.C. (more states are planned).
At the end of 2019, Crux Fermentation Project, in Bend, Oregon, began selling its vintage collection of Banished barrel-aged beers to Oregon residents. Branding and marketing manager Jason Randles sees online sales as a solution to several problems. Customers can't always spare a trip to the taproom, and retailers might refuse to stock certain bottle sizes on too-full shelves. "There are fans," Randles says of Crux's barrel-aged beers, "but the beers are getting harder to find."
Athletic Brewing, in Stratford, Connecticut, has no problem finding takers for its nonalcoholic beers, such as Run Wild IPA. The brewery regularly runs out of stock, selling around half of its beers through nontraditional channels, including its online shop. Legally, Athletic and likeminded brewers can sell and ship alcohol-free beer nationwide, freely crossing state lines.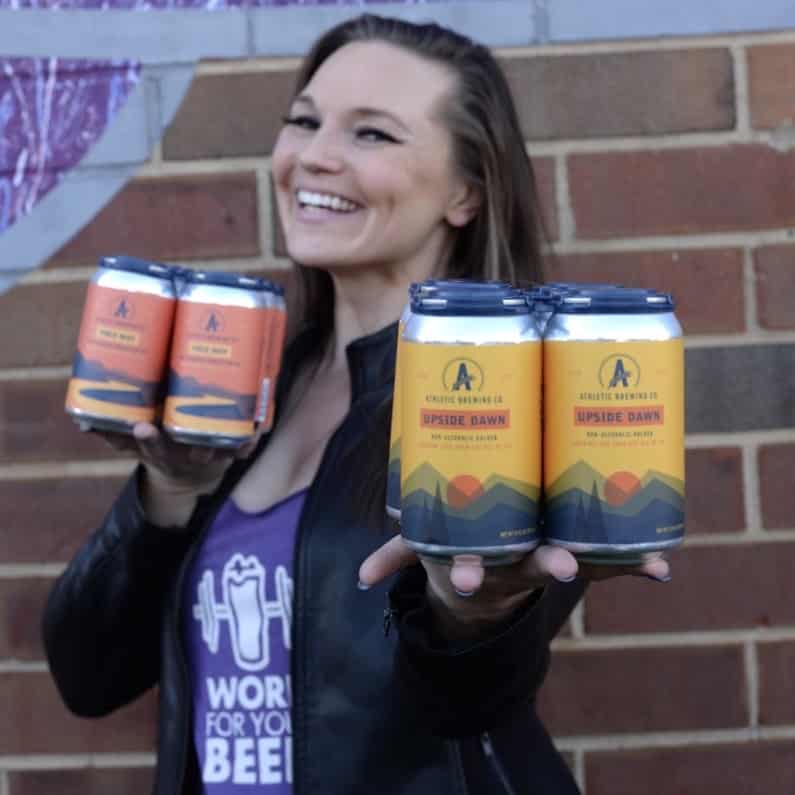 Sales are so robust that Athletic runs two packaging shifts most days. Limited releases such as Free Way, a double-hopped hazy IPA, can sell out in as little as 30 seconds, the main advertising an Instagram post. "We interact directly with customers across the country," says founder Bill Shufelt.
Take Your Beer on the Road
For breweries, taprooms have been essential to sell beers and brands to patrons.
Social-distancing measures have led breweries to create contactless curbside pickups, as well as drive-throughs that let customers grab six-packs like sacks of burgers. In Portland, Oregon, the FunctionPDX event space has become a temporary taproom for Oregon breweries including Wolves & People Farmhouse and Yachats Brewing, neither of which possesses a local brick-and-mortar presence. Night Shift Brewing, which is based near Boston in Everett, Massachusetts, runs the Owl's Nest series of seasonal pop-up beer gardens around the region, including one alongside the Charles River.
You'll ride a ferry to Governors Island, in New York Harbor, off the southern tip of Manhattan. The 172-acre expanse is a car-free urban refuge programmed with music, arts, restaurants, and beer from Threes Brewing, a Brooklyn brewery. It operates a seasonal pop-up, serving its fragrant and refreshing Vliet pilsner and vibrantly fruity IPAs amid a canopy of trees. "The art and ecology felt like us," says Josh Stylman, a Threes founder.
Brew Pipeline's Guest Brewer program treats beer sales as a pop-up experience. The Wisconsin company connects craft brewers to new markets, bringing in beer shipments for limited sales engagements—no lifetime distribution agreement necessary. "They come in and pull out before brand fatigue sets in," says Steven "Q" Kwapil, the CEO and a founder.
Brew Pipeline signs up lauded breweries, such as Minnesota's Surly and Indiana's Sun King, to produce large volumes of a specific brand—100 barrels is the sweet spot. Prior to brewing, Brew Pipeline fills its spreadsheets with pre-orders, handling contracts and logistics, before green lighting brewing. Finished beer goes straight to distributors, no warehousing required, the beers guaranteed fresh.
Retailers are also turning their shelves into destinations for their own limited-release beers. To date, Denver's Molly's Spirits has partnered with Colorado breweries to make more than 30 store-exclusive collaborations, including the Better Together hazy IPA with New Terrain, and has more than a dozen slated for 2020. "Collaborations give us these unique products that no one else has," says Tony Doria, the beer manager. "If you like the beer, it so happens that we're the only people that sell it."
How Cooperative Models Lessen Risk
To lessen risk, as well as support each other in a time of need, breweries are banding together under a cooperative model, sharing equipment, knowledge, and even taprooms. Rocky Mount Mills, a historic cotton mill in eastern North Carolina, operates a brewing incubator, while Denver's Brewer's Co-Hop brings Good River Beer, Rocky Mountain Sector, Renegade Brewing, and Sunny Girl Seltzer under one roof to share production resources, plus sales and marketing and administration duties.
Chicago has two separate incubators. Pilot Project's eclectic producers include hard kombucha company Luna Bay Booch and Tethered Vines, which makes beer-wine hybrids. Try them in the plant-filled shared taproom, and then head to District Brew Yards. Its four production breweries collectively share equipment, to-go fridges, and a taproom featuring 40 serve-yourself taps. Around the Bend's pistachio cream ale is served alongside Casa Humilde's prickly pear–infused farmhouse ale, Bold Dog's potent Belgian quad, and Burnt City's IPA fermented with Norwegian yeast.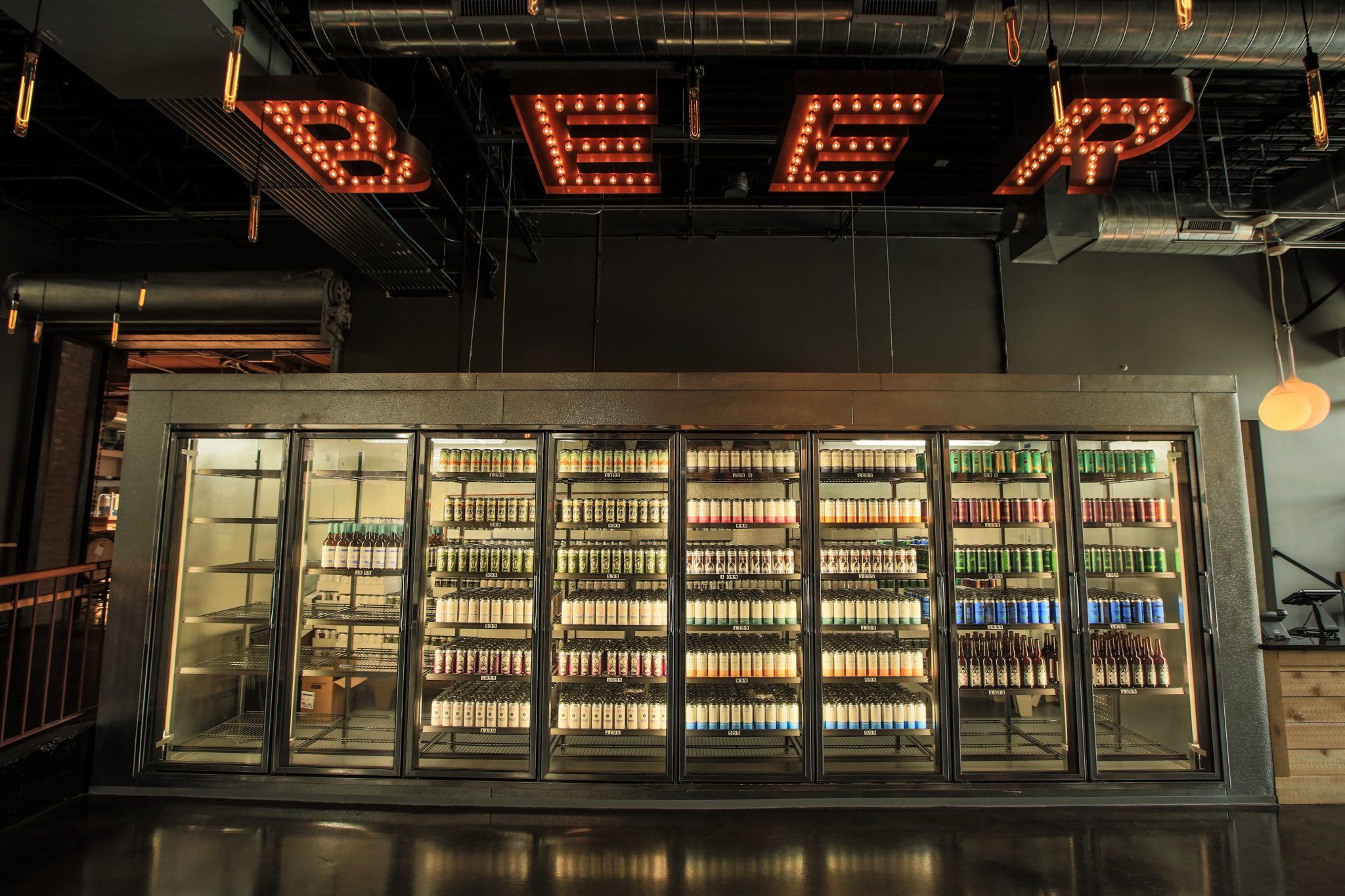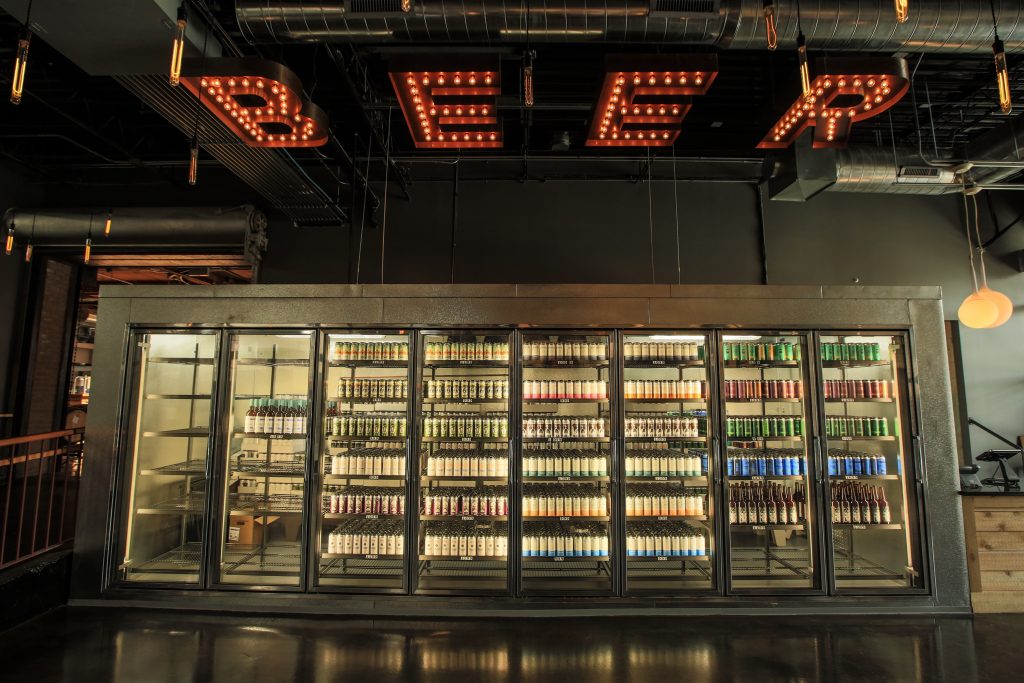 The experimentation extends to retail. The collective leverages its variety by selling mixed cases featuring all four breweries, including a holiday beer advent calendar. Additionally, Grubhub and Door Dash will bring District Brew Yards beer to Chicago customers, and the company hopes to roll out direct-to-consumer beer sales across Illinois this year. "We want to be able to offer on-demand beer," says Soble, the District Brew Yards founder. "It's what's next."
What's next is no given. After all, just because you can ship your beer doesn't mean you should. "Your product has to be in demand," says Adams, of Levante. There's also the cost of packaging the beer, labor included. Seasonal pop-ups are great, but profits might be washed away by inclement weather. Shipping beer to distant markets might make money once, but can breweries do so twice? No matter which sales knobs brewers twist, the ultimate arbiter will be making high-quality beer.
One of Magnify Brewing's most infamous, in-demand offerings is Trade Proof, a sour beer mobbed with smoothie levels of fruit. Instead of canning the February release or permitting growler fills, Magnify only served it in the taproom. Says Ruta, "We love it when people come in to buy cans and leave, but we want you to have a beer here."
And beer drinkers far and wide are looking forward to the day when everyone can return to taprooms, sharing cold rounds and warm camaraderie.