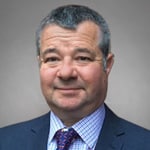 Leadership
Simon Jackson
Director of European Region
Simon Jackson is the Director for the European Region at First Key. He is a Master Brewer with extensive experience in capital investment programmes, rationalization projects, industrial relations, change management, service/productivity improvements, organizational design, people development strategies, health and safety systems and compliance, and environmental systems and compliance. Simon has a deep understanding of the European beer business from the craft to multi-national scale.
Prior to joining First Key, Simon held director-level appointments in manufacturing, logistics, sales and customer marketing. He has also operated at the management board-level with significant financial and operational accountability, throughout his successful and wide-ranging career in the brewing industry, including serving 10 years as the chief executive of The Institute of Brewing and Distilling (IBD).
Simon is a Master Brewer from the Institute of Brewing and Distilling and holds a Bachelor of Science from the University of Wales. Outside of First Key, Simon is a keen amateur musician and enjoys choral singing. He also enjoys playing golf and spending time with family.