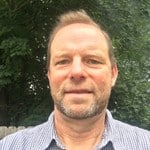 Leadership
Phil Leinhart
Senior Advisor,
Technical Services
Phil Leinhart is a Senior Advisor, Technical Services at First Key. He is an award-winning Master Brewer and leads projects across CapEx, production, packaging, product innovation and quality, ranging from small (1,000 bbl/year) breweries to large-scale breweries. Phil's experience covers beer, cider, spirits, soft-drinks and malta.
Prior to joining First Key, Phil was a Brewmaster at Brewery Ommegang and Process Control System Manager/Brewing & Packaging QA Supervisor/Brewing Group Manager at Anheuser-Busch. Phil completed his Brewing Science and Technology at Doemens Academy (Munich-Grafelfing, Germany) and holds a Bachelor of Science in Chemistry/Environmental Science. He received his engineering and technology training at Anheuser-Busch and is a Competition Judge at both the World Beer Cup and Great American Beer Festival (GABF).
Phil is an Inductee of the Knights of the Belgian Brewers Guild and in 2016, he was named Mid-size Brewery and Brewmaster of the Year by the World Beer Cup. Outside of First Key, Phil enjoys spending time with his family, playing music and the outdoors.