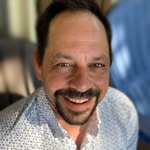 Leadership
Mark Benzaquen
Senior Advisor,
Technical Services
Mark Benzaquen is a Senior Advisor, Technical Services at First Key. He uses his brewery production and packaging expertise to develop and launch new products, hire and train staff, implement new quality and environmental programs, optimize brewery processes, and oversee the design, start-up and commissioning of new brewery systems around the world. Mark also served over ten years at the Ontario Craft Brewers Association in various roles, including Technical Chair.
Prior to joining First Key, Mark was a Production Brewer at Molson Coors Brewing Company where he led teams of quality, production and packaging staff to ensure consistent high production and quality standards within breweries of all sizes (large scale, microbrewery, brewpub). He was also a Brewer for the Rickards Microbrewery (Molson), and opened his own craft brewery in Toronto, Canada.
Mark received his Master of Science Molecular Biology from the University of Toronto and his Bachelor of Science Microbiology (Hons.) from Queen's University in Canada. He also holds a Diploma in Brewing from the Institute of Brewing and Distilling (IBD). Outside of First Key, Mark enjoys adventures with his family.