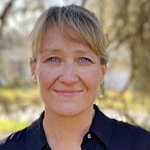 Leadership
Dr. Heather Pilkington
Managing Director & CEO
Dr. Heather Pilkington is the Managing Director and Chief Executive Officer of First Key and serves on the company's board of directors. She is responsible for driving the growth and financial performance of the company, leading strategic planning, and fostering a culture of quality, service, collegial spirit, business-building, and thought leadership. Under Heather's leadership, the firm counts well-known major and craft breweries and malting companies from around the world among its clients, and a roster of consultants that includes experts from every facet of the industry.
Prior to joining First Key, Heather held various leadership positions at Labatt, Interbrew and Anheuser-Busch InBev (ABI) where she managed process development and brewery support departments both at the national and international level, and was part of the core team that developed and implemented ABI's continuous improvement program globally.
Heather is a licensed Professional Engineer and received her Ph.D. in Biochemical Engineering from Western University in Canada. Outside of First Key, Heather enjoys biking, music, playing squash, running and skiing with family and friends.