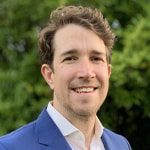 Chris Clarke is Chief Commercial Officer of First Key and serves on the company's board of directors. He is responsible for the company's global brand development and leads the firm's marketing, content development and communication execution across a diverse range of digital and non-digital media vehicles.
Chris works closely with the company's CEO, consultants and strategic partners to build new business opportunities, execute business plans, and develop the firm's talent base. He oversees the company's media relations and online assets, and is responsible for industry relationships with trade associations and partners. Prior to becoming CCO in 2020, Chris worked in various company roles including Market Analyst and Director of Marketing.
Chris has completed studies in strategic planning, accounting and information technology, and holds a degree in International Relations & Political Science from Bishop's University in Quebec, Canada. Outside of First Key, he enjoys his busy life with his wife Karen and their three children and playing hockey and golf when time permits.