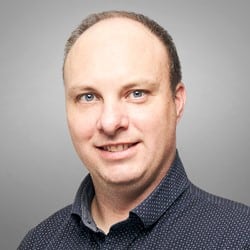 Leadership
Christian Paquette
Senior Advisor,
Engineering Services
Christian Paquette is a Senior Advisor, Engineering Services at First Key. He specializes in detailed process design including pressure piping and equipment systems, packaging line installations, brewing facility commissioning and decommissioning, CIP system design and optimization, as well as managing the maintenance & reliability programs for large breweries. Christian has led small and large teams of personnel and ensures productivity and safety are always at the forefront.
Prior to joining First Key, Christian worked for several engineering firms where he managed many small craft and large-scale engineering projects for leading global brewers. Before that he was a Project Engineer for Molson Breweries in Canada, leading teams to develop and implement utility improvement initiatives to meet national saving plans in gas, water, and electrical usage. He continuously delivered on the initiatives he led, through process improvements and capital improvements, which included extensive upgrades to CO2 collection and distribution systems. Christian has experience with instrumentation, operational improvements in packaging & maintenance, and commissioning new packaging facilities. Earlier in his career he was a manager for a process piping company completing turn key design and installation of sanitary process piping and equipment projects in breweries, food production, and chemical facilities.
Christian received his BSc Mechanical Engineering from the University of Alberta and has completed Associate Exams with the Institute of Brewing and Distilling. He has also completed courses in Packaging Technology, Malting Sciences, Pressure Equipment Codes, and Water & Resource Conservation. Outside of First Key, Christian enjoys skiing, camping, and various outdoor activities.