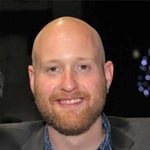 Leadership
Patrick Truman
Director of Corporate Operations
Patrick Truman is the Director of Corporate Operations at First Key. He is responsible for the development and implementation of the company's operating systems and project delivery. His role includes facilitating process improvements and overseeing organization-wide knowledge management. Patrick collaborates closely with the company's practice groups and clients, sharing information and managing project schedules, budgets and scopes of work with an emphasis on client needs and satisfaction.
Prior to joining First Key, Patrick was the Web Content Coordinator at the Centre for Digital Media in Vancouver, Canada where he was responsible for implementing an updated social media strategy emphasizing content marketing and increased presence on core social media platforms. He also worked as head brewer and assistant brewer at R&B Brewing Company.
Patrick received his Masters in Digital Media from the Centre for Digital Media (UBC, SFU, ECUAD, BCIT) in Vancouver, Canada, and earned his Bachelor of Communication from Simon Fraser University. Outside of First Key, Patrick enjoys quality time with his wife, young daughter, and dog, as well as spending the odd night in the backcountry, playing hockey, and a good cigar.