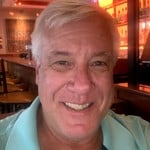 Leadership
Jack Hansell
Senior Advisor,
Supply Chain
Jack Hansell is a Senior Advisor, Supply Chain at First Key. He has extensive international experience in packaging optimization, logistics and distribution, and quality management systems (QMS). Jack's areas of expertise include strategic and operational planning, supply chain management, cost reduction, resource management, packaging layout and design and continuous improvement for craft- to large-scale brewery clients. Jack has designed and started up several craft breweries throughout North America and consults regularly on packaging quality and innovation projects.
Prior to First Key, Jack held leadership roles at Molson Coors, from Director of Supply Chain and Senior Manager of Packaging Quality and Innovation, to Senior Manager of Trade and Consumer Quality and Distribution. He was responsible for overseeing forecast, operations and planning for all exports from the US, including contract/license operations in Latin America, Caribbean, Central & South America. He handled new package development and design, packaging operations and quality performance oversight at partner facilities, and established an innovation pipeline for all MCI Business Units in Asia, India, Ukraine, Russia, Croatia and other emerging markets. Jack was responsible for establishing policy, standards, and procedures, as well as distributor and key customer training and compliance throughout the US three tier distribution system.
Jack received his Bachelor of Science, Mechanical Engineering degree from Rutgers University in New Jersey, USA, and holds certificates in Brewing and Packaging from the International Distillers and Brewing Guild (now the Institute of Brewing and Distilling) in the United Kingdom. He is also qualified with a six-sigma black belt and has ISO9000 lead auditor qualifications. Outside of First Key, Jack enjoys the outdoors including pheasant hunting, fishing, camping, golf and spending time with the family and pups.